Your Guide to General Liability Insurance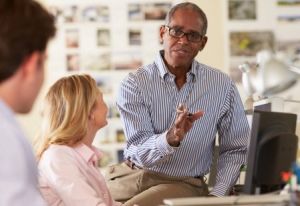 When shopping for General Liability Insurance the specialists at the Thumann Agency are here to help you customize a specific plan that works for your business. Every business needs to protect themselves from accidents, injuries and the litigation that arises from this type of situation.
General Liability Insurance coverage protect's your business from these unexpected expenses. When it comes to choosing the correct coverage, there are many different options to choose from, our experienced insurance agents at Thumann Agency can assist you in finding the right plan at the right budget.

---
With General Liability Insurance, Coverage's Usually Include
Property Damage or Bodily Injury - claims can arise from bodily injury or property damages resulting from accidents on your premises or from your products, your operations or advertising for your business.

Medical Payments – can take care of minor injuries to others that occur on your property.

Personal & Advertising Injury - in the event your company's marketing violates someone's copyright or offends them and they feel you now owe them for their damages you may have caused.

Defense Costs - if damages are filed against you or your sued, general liability insurance covers the insurance company's investigation and attorney expenses, any judgment or settlement, medical expenses in case of injury and bonds if they must be subsequently posted.
---
What Business Lability Insurance Doesn't Cover
Employee injury - your employees are not covered for any injury under your general liability insurance.

Professional services - you are not covered for any professional services performed by you.

Use of vehicles and boats - you are not covered for auto and boat accidents.

Personally identifiable information - general liability insurance does not cover Cyber Liability or failure to protect any personally identifiable information that is in your care, custody or control

Your property - you are not covered for damage claims to a property you own or the property of others in your care, custody or control.
---
Quoting for Other Business Insurance Policies
Depending on your type of business you own, you may want to consider these policies:
Business Owners Policy/BOP - typically, BOPs consist of covering property, general liability, vehicles, business interruption and other types of coverage common to most types of businesses. BOPs simplify the insurance buying process and can often save you money.

Commercial Auto - commercial vehicle insurance is needed to cover the cars, trucks, and vans used in conducting your business.

Professional Liability Insurance - also called professional indemnity insurance, is a type of liability coverage designed to protect traditional professionals (e.g., accountants, attorneys) and quasi-professionals (e.g., real estate brokers, consultants)
---
The Thumann Agency is here to assist and provide you with a superior level of customer service if you have specific question or need to reach a business insurance expert, we are available from 9 am to 5 pm at (972) 991-9100 Or Start your General Liability Quote now